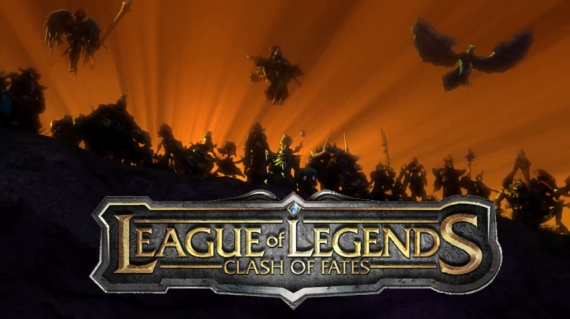 League of Legends: Clash of Fates is clearly not a game focused on last technology graphics big super-real effects o battle simulations. League of Legends it's all about being a fun, elaborated, and very competitive experience, in constant development, all around the community.
But where does it come from or what is this game really about?
Guinsoo and Pendragon, two members of Riot Games, are known for being responsible of one of the most played mods of history, based on Warcraft III, DotA it's a mod that made it through despite its lack of accessibility to the players, all because it's fun levels were so high it overdue even WC3 itself. That's the reason it is still a very active mod till today.
League of Legends it's described as the spiritual successor of DotA and the reins are guided by Guinsoo itself, he and the team are trying with all their resources to bring up this new genre in video games.
Centered in concepts previously ignored, especially by the big companies, League of Legends bring us: fun, competition, complicity, community and development in collaboration of the player to the players.
Next the interview with League of Legends:
LagZero.NET – League of Legends – Questions & Answers – 3/30/2009

1. State your name and position in the Studio.
Marc Merrill, Executive Producer
.
.

2. Thank you very much for giving us this opportunity to know little more about League of Legends. The first question it comes to us is what is the motivation behind the idea of creating a game like League of Legends?
There were a number of reasons that we wanted to create League of Legends.  First, we believed that DotA was pioneering a new gameplay genre – one that we refer to internally as MORBA – Multiplayer Online RPG Battle Arena.  We thought the core ideas pioneered by Guinsoo and the creators were tremendously cool and that there are many ways to deepen and enhance the core experience.
Additionally, we all played DotA and loved the game, but as members of the community, we felt the pain of many of the problems that derive from being a mod.  To site some examples, the lack of matchmaking and stat tracking makes it very difficult to find a good game as a skilled player – no one has any information about who is good.  This also creates very high barriers to entry because pro players will stomp new players and create a not fun experience for both. There are other problems like not having an in-game shop interface, a HUD that's designed for a RTS, the lack of multiple maps, etc.  The community was always asking about these features, but they just couldn't be implemented in the mod.
Finally, we are all extremely passionate about online communities and believed that there are many ways to take the online community experience to the next level by establishing an open, direct relationship with the players and letting them help inform how the game evolves on an ongoing basis.  Looking at games as a "service", as opposed to a discreet "product", allows us to be really responsive to the needs of our players and thus improve their experience and develop a relationship with them.  As a long-time online gamer myself – my online friends and I always wanted a company to address our thoughts on how to improve the products that we played a ton of and thus cared deeply about – but we were always ignored.  At Riot, we believe that is a missed opportunity and are taking steps to ensure that our players feel respected, appreciated and involved.
3. Would you give us a brief description of what League of Legends is about, for the people that is unfamiliar with this new genre?
League of Legends is a Multiplayer Online Roleplaying Battle Arena that combines the best elements of MMORPG style PvP with the highly innovated gameplay mechanics of DotA.  League of Legends offers fast-paced, team based, strategic combat in highly replayable game sessions where players form competitive teams to battle with other players over strategic objectives.
Users will play as Summoners, an avatar tied to the player's account that advances in power and grows over time, who have the ability to call forth Champions to do battle on their behalf in a variety of different strategic objectives.  Each Champion has been built around extremely varied gameplay mechanics providing a unique and differentiated play experience.  During each game session, your Champion will grow from weak to powerful and make many of the most fun decisions you make over 6+ months in an MMO – choosing how to advance skills and abilities and equipping your character with items to enhance their power – but all boiled down into a very fast-paced experience.
4. What are the main goals to achieve when League of Legends hits release date? Do you have some commercial goal for the first week? What are your personal goals as a developing studio to qualify the game as a success?
The goal of League of Legends is to expand on the innovative and fun gameplay mechanics pioneered by DotA-Allstars by deepening the experience to satisfy the core DotA players while also simultaneously lowering the barriers to entry in order to reach an even broader online gaming audience. To list a few of the enhanced features, we developed intelligent matchmaking, stats tracking, clan support, ranking, and Leaverbuster technology™ to ensure players are motivated to stay through the ending of a game.
The reason we have focused so heavily on "around game" features is because community is so important to us.   We are committed to a posture of openness and transparency with the League of Legends community and will actually be involving the players in the decisions about how to evolve League of Legends over time through close communication and through systems like our Suggestion Engine™ which we will announce details about in the near future.
Our mission at Riot is to create premium online games with high replayable content, deep and fun gameplay, and building robust online community features. League of Legends has been our focus for over two years now and we really look forward to working with our players to make the game the best it can be.
5. What distribution methods are you planning to use?
League of Legends will be offered both as a retail and digital offering.
.

6. Since DLC seems to be mandatory nowadays. Are you guys planning to release some kind of expansion pack in the future?
League of Legends will be operated as a service with frequent updates and patches in order to evolve the game over time based on player feedback.  While we haven't released details on the frequency of updates, League of Legends will not require a subscription fee for ongoing updates, patches, and content expansions.
.

7. Is in some aspect League of Legends related to DotA AllStars?
The idea for League of Legends came about because a couple of very active DotA community members found the gameplay so fun and innovative, it deserved to be its own professional game with significantly enhanced features and multiplayer support.  League of Legends can be thought of as the "spiritual successor" to DotA-Allstars – in that it has the same core feel and moment to moment gameplay experience, but is enhanced in many aspects.

.

8. How big is the developing team? How many of them worked on DotA?
We have roughly 40 members in the League of Legends development team, comprising of an all-star team of industry veterans who've worked on amazing games at some great companies. We're very excited to talk about members of our team, and we've included bios and profiles of all our members on our website (http://www.riotgames.com/insider/team/).  As you can see in the link a number of them worked on various aspects of DotA, but the two who held the most senior roles in the community are Steve "Guinsoo" Feak who created DotA-Allstars for years and Steve "Pendragon" Mescon who runs the largest DotA community site.
The next set of questions comes directly from your fans and followers: