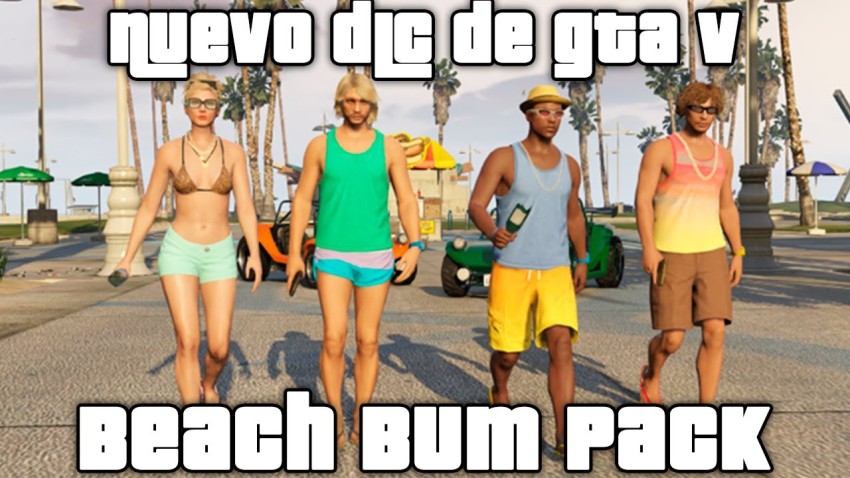 Durante la madrugada de hoy, ha sido puesto a disposición del público el primer paquete de contenido descargable gratuito para Grand Theft Auto V, llamado Beach Bum Pack.
El DLC agrega un puñado bastante grande e interesante de nuevas misiones para el componente Online (todos con temática playera), nuevas armas como la Botella quebrada, una pistola, nuevos autos que incluyen un buggie arenero, más opciones de personalización, etc.
Además, el DLC contiene una serie de parches para bugs y exploits conocidos de GTA O, como la duplicación de vehículos, la explotación de algunas misiones, y una larga lista de correcciones que, incluso, hacen más difícil la vida online (como la reducción de los pagos por las carreras).
Basta prender la consola, en el caso de la PS3, para obtener el update. En Xbox 360, deberás descargarlo desde el Market Place en formato DLC. … todo gratis, si.
Lo agregado y cambiado en este parche, a la vuelta del salto (Inglés):
NOTE: To get the beach bum items, you need to download it from the marketplace as well as the patch.

If I get anything wrong please comment and I will change/remove it.

Added 4 new Beach Bum vehicles (BF Bifta, Canis Kalahari, Bravado Paradise, Speeder Speedboat. All free)
Added 2 new weapons (SNS Pistol, Broken bottle. All Free)
Added new glasses (For me these are already in my inventory)
Added new clothes (Tank tops, flip-flops, shoes, shorts)
Made new off-road vehicles available to purchase (Canis Bodhi, BF Dune Buggy, Karin Rebel, Vapid Sadler, 2-door Sandking)
Added Pictures for all purchasable vehicles
Removed glitched vehicles from garages (Tanks, riot vans, unmarked cruisers etc. but not the spacedocker and Franklin's Buffalo)
Reduced race cash and rp payouts
Tow truck has been removed from all garages.
Added MMI as a quick GPS waypoint
You now no longer lose you hair after wearing a mask
It is now $200 to have a vehicle delivered rather than $1000
The price of removing your wanted level now depends on how many Stars you have. ($200-$1000)
LSC Glitch is now patched (Not fully confirmed)
You can now buy a sanchez without a livery
Changed "Pegassi Faggio" to "Principe Faggio"
Added new tattoos (All free)

Acá va la lista oficial desde Rockstar:

Fixed an issue where the game would delete your personal Vehicle if you have another player in it when you add a Tracker and Insurance.
Fixed an issue where players could become stuck on the aerial view when entering GTA Online with cloud servers down and having just launched a mini-game.
Fixed an issue where the mission 'Damaged Goods' would start even though it had previously been completed.
Fixed an issue where under rare circumstances players couldn't claim back their personal vehicle in GTA Online.
Fixed an issue where under rare circumstances players were able to get the Declasse Sheriff SUV into Los Santos Customs and respray it causing the menus to malfunction.
Fixed an issue where in rare circumstances players would lose all personal vehicles after being idle kicked and unable to rejoin an online session.
Fixed an issue where players could occasionally get stuck after killing a pedestrian with a golf ball.
Corrected an exploit where players would retain their personal vehicle after selling it at Los Santos Customs mod shop by transitioning back and forth between Story Mode and Online.
Corrected an exploit where players could keep repeatedly selling a Bati 801 to Los Santos Customs.
Corrected an exploit where players were able to duplicate vehicles by accepting a Mission while leaving a high-end garage.
Corrected an exploit where a player could start a Team Deathmatch with all players on the same team.
Players are no longer able to delete their GTA Online character while the Rockstar cloud servers are unavailable.