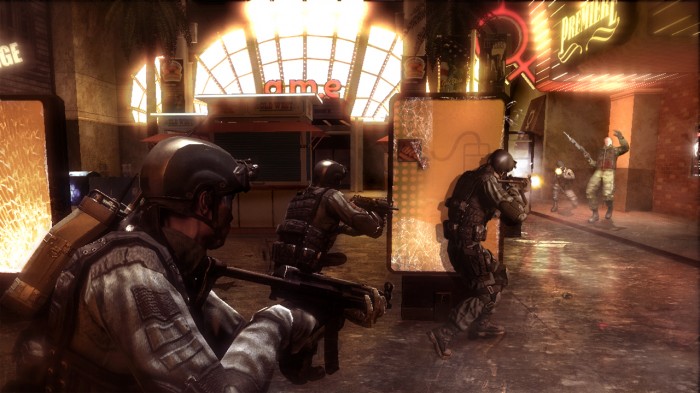 De las manos de Ubisoft Montreal, vendrá la nueva entrega de la ya viejísima saga de shooters 'tácticos' Rainbow Six, en esta ocasión, el nuevo integrante de la familia será Rainbow Six: Patriots.
La ventana de lanzamiento está programada para 2013, y la gran gracia, es que esta sexta entrega de la saga, llegará simultáneamente a PC, Xbox 360 y PS3, como es de costumbre en esta franquicia (y un alivio para los fans).
La trama se desarrolla al rededor de un grupo revolucionario llamado "The Patriots" (Los Patriotas), quienes están en una campaña para recuperar los Estados Unidos de las manos de políticos corruptos y los intereses corporativos… parece sacado del libreto de los estudiantes chilenos en paro 😛 (fuck Camila Vallejo™)
Como sea, el juego se viene, y para complementar la info, les dejamos el comunicado oficial mostrado el día de ayer (inglés), a la vuelta del salto:
TERRORISM HITS HOME IN TOM CLANCY'S RAINBOW 6® PATRIOTS VIDEO GAME FROM UBISOFT®

SAN FRANCISCO – November 3, 2011 – Today, Ubisoft announced the development of the latest edition of its best-selling Tom Clancy's Rainbow 6 franchise, Rainbow 6 Patriots. Developed by Ubisoft Montreal with the support of Ubisoft Toronto and Red Storm, Tom Clancy's Rainbow 6 Patriots revolves around a dynamic single-player storyline that captures the reality of modern-day terrorism and allows players to experience it from multiple characters' perspectives. Tom Clancy's Rainbow 6 Patriots is due for release on the Xbox 360® video game and entertainment system from Microsoft, PlayStation®3 computer entertainment system and Windows PC in 2013.

Tom Clancy's Rainbow 6 franchise has sold more than 25 million copies worldwide and has been hailed as one of the best first-person shooter series of all time.  The games are known for depicting high-tech counter-terrorist operations set within the Tom Clancy's game world.  With Tom Clancy's Rainbow 6 Patriots, Ubisoft is building upon the success of the franchise while also taking it in a bold new direction.

"Terrorism has evolved, and so has Rainbow 6. In Tom Clancy's Rainbow 6 Patriots, all the team play, tactics, and realism that fans of the series love have been coupled with an exciting new narrative direction," said David Sears, creative director at Ubisoft. "This adds an unprecedented level of humanity that will make Tom Clancy's Rainbow 6 Patriots an extremely tense and immersive experience."

In Tom Clancy's Rainbow 6 Patriots, Team Rainbow faces a new and very real threat called the "True Patriots," a highly-trained, well-organized revolutionary group that claim the American government is irrevocably corrupted by greedy politicians and corporate special interests.  The True Patriots will do whatever it takes to reclaim their country.  Playing as Team Rainbow, players will face critical scenarios that will require them to make tough ethical decisions in order to stop this new breed of terrorists.

In addition to the immersive single-player storyline, Tom Clancy's Rainbow 6 Patriots will introduce a huge variety of new innovative co-op and multi-player experiences. Players will be rewarded for working as a team and mastering the game's new features that enhance communication and tactical execution between teammates. Success will come from a mix of split-second decision making and working to coordinate attacks against the enemy.

Additional details on Tom Clancy's Rainbow 6 Patriots can be found in an exclusive cover story in the December 2011 issue of Game Informer Magazine, available this month.