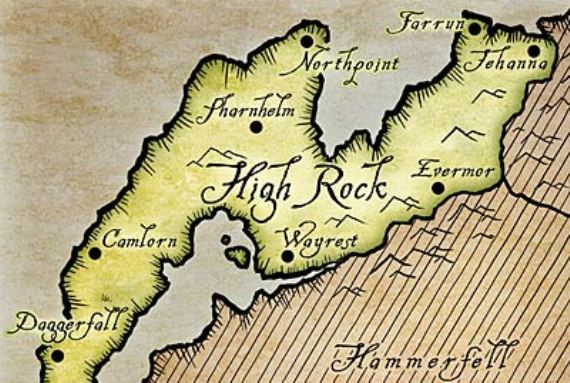 Hola a todos, ando de viaje en el sur de Chile tomando una – espero – merecidas vacaciones, por lo que mi presencia en estos días ha sido un tanto escasa…
Para entretenerme, he andado buscando algunos juegos viejos que puedan correr en la CPU Atom del netbook MSI Wind que ando paseando y dí con la excelente noticia de que Bethesda Softworks, los mismos creadores de Fallout 3 y toda la saga Elder Scrolls, ha liberado de forma gratuita The Elder Scrolls II: Daggerfall.
Hace un tiempo, cuando pregunté respecto de quienes habían jugado Oblivion (TES IV), muchos de ustedes saltaron comentando lo fantástico de dicho juego, pues bien, Daggerfall es, probablemente, el título que introdujo el sistema de juego utilizado en Morrowind, Oblivion, y la serie Fallout por supuesto.
U gigantesco territorio lleno de misiones y quests que a veces llega a ser totalmente abrumador es lo que siempre ha entregado esta saga de juegos Action RPG, y que la compañía que brillantemente los diseñó entregue uno de sus mejores títulos for free no es una noticia menor.
The Elder Scrolls II: Daggerfall pueden bajarlo desde este enlace en Fileshack, o desde este otro en Bigdownload.
El juego ha sido liberado "así como viene", por lo que no contaremos con suporte completo para los sistemas actuales que simulan ambiente DOS, pero Bethesda se ha encargado de redactar un completo tutorial para usar un emulador de DOS llamado DOSBox, instrucciones que dejamos a continuación del salto (en inglés):
Daggerfall is not fully compatible with the NTVDM used to emulate DOS under Windows NT (XP/Vista) so an alternative DOS emulator should be used.

1) The first step is to install DOSBox. Launch its setup program and install with default options.

2) After DOSBox is installed, navigate to its entry in the Start Menu (DOSBox-0.73) and then select "Configuration," and then "Edit Configuration." If you have used DOSBox before, it may be best to run "Reset Configuration" first before running "Edit Configuration."

3) This will open up Notepad with the config file displayed. Look for the section [dosbox]. In this section will be a setting "memsize=xx." Change the value of xx to 32 (i.e. memsize=32) and then save and close the file.

4)The next step is to extract Daggerfall from the archive. The archive is a zip file named "DFInstall.zip." Using a zip program such as Winzip or Winrar, open the archive and choose to Extract. You want to extract the entire contents of the zip file to a directory on your C:, such as C:dosgames. So, when you chose Extract, the program will ask for a path, enter C:dosgames. This will create the folders C:dosgamesDFCD and C:dosgamesDAGGER.

5) Once the archive extraction is completed, DOSBox must be launched to start the installation process. Use the DOSBox icon on your desktop or the entry in the Start Menu to launch it.

6) Once launched, you will be presented with a window containing a command prompt (Z:> ).

7) As DOSBox is a virtual environment, the locations to work with must be mounted within the virtual environment. First, you must mount the location that contains Daggerfall's files to a virtual C: within DOSBox.

8) To do this, type this line in at the command prompt: mount c c:dosgames -freesize 1000. Press enter to process the command. This will map C:dosgames to virtual C:.

9) Next, you must emulate the Daggerfall CD-ROM for the installation and running of the game.

10)To this, type this line in at the command prompt: mount d c:dosgamesdfcd -t cdrom -label Daggerfall. Press Enter to process the command. This will map the files in C:dosgamesdfcd to to virtual D:, which is acting like a CD-ROM with the volume label of Daggerfall (needed to run the game).

11) Once the two locations are mounted, at the command prompt type: D:, then push enter and the prompt will change to D:>. 12) Next, type: INSTALL. Press Enter and the Daggerfall installation program will launch. At this point you can move your actual mouse pointer into the DOSBox window and click once. Mouse control will be handed off to DB and will work within the Daggerfall installer to select items.

13) Now, agree to the terms and then select "Install the Game to Your Hard Drive." Then select "Change the Install Size" and set it to "Huge." Next select "Yes, This Install Size is Fine." The installer will suggest C:Dagger as the installation directory. Install the game to that location. Select "Yes, I want to install the game here." Following this, confirm the choices by selecting "Go ahead and install the game." The install will begin.

14) After installation, Daggerfall will offer to configure the sound card. At this point it is important that DOSBox be running in windowed mode and not full screen. If DOSBox is in full screen, hit ALT + Enter on the keyboard to place it back into windowed mode before choosing to configure the sound card.

15) Choose "Yes" to configure the sound card. Another program will appear. There is no mouse support in this program so the keyboard arrow keys and the Enter key will need to be used.

16) Press Enter while "Auto-Detect" is highlighted. Next, press Enter while "Detect" is highlighted. This will detect an emulated Sound Blaster 16. Navigate over to "OK" and press Enter.

17) Navigate down to "Select MIDI" and press Enter. Select "Sound Blaster 16" from the list and press Enter. Press Enter again to select the default Port of "388." Navigate to "OK" and press Enter.

18) Navigate down to "OK" on the menu and press Enter twice. This will save the config and return you to Daggerfall's installer. Select OK and the installer will exit and drop you off at C:DAGGER.

19) At the command prompt, type: DAG213. Press Enter. This will launch the patch to update the game to 1.07.213. Answer "YES" to both prompts when the patch asks for confirmation.

20) Once the patch is done, the game may be started. At the C:DAGGER> prompt, type: DAGGER. Press Enter. Daggerfall should now load.

21) Each time you want to run Daggerfall, you will need to start DOS-Box and enter these commands:

mount c c:dosgames -freesize 1000

mount d c:dosgamesdfcd -t cdrom -label Daggerfall

c:

cddagger

dagger

Each of the above commands is followed by a press of the Enter key