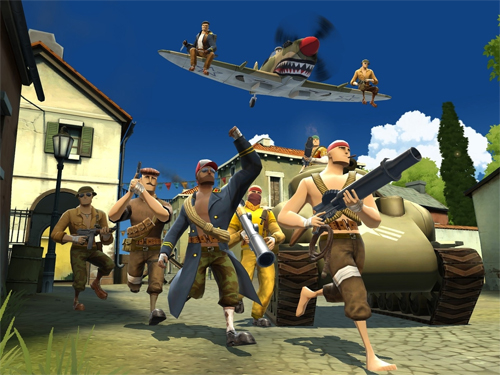 Podríamos catalogar esta semana como la del Martes de Terror, ya que en ese día se concentrarán la mayoría de los lanzamientos de esta semana, lo cual es sumamente curioso.
Dentro de lo más destacado de esta semana, está el muy esperado thriller de horror y supervivencia Silent Hill: Homecoming para PC, 360 y PS3, además del muy esperado juego gratuíto de EA Games basado en personajes de caricatura y ambientado en la Segunda Guerra Mundial: Battlefield Heroes.
Para los dueños de las Nintendo DS, Sonic Chronicles: The Dark Brotherhood traerá de vuelta al peliparado y azulino Sonic a las consolas portátiles y, para los aún más hardcore, Megaman 9 estará listo para XBLA el miércoles de esta semana.
Lugar destacado en esta lista, recibe Sacred 2: Fallen Angel que estará a nuestra disposición este martes para PC además de Spiderman Web of Shadows para la misma plataforma.
Lista completa de esta semana, luego del salto.
Lunes (29 de Septiembre)
Mortal Kombat Kollection (PS2)
Animal Paradise (DS)

Martes (30 de Septiembre)
Sonic Chronicles: The Dark Brotherhood (DS)
Silent Hill: Homecoming (PC, 360, PS3)
Age of Booty (PSN, PC, XBLA)
Pipe Mania (Wii, 360, PC)
Sarah's Emergency Room (Wii, 360, PS3, DS, PC)
Defenders of Law, Inc.: Crime in Willburg (PC, DS, Wii)
Xyanide Resurrection (PSP, PS2)
Galactic Command – Excalibur (360)
Spider-Man: Web of Shadows (PC)
We Cheer (Wii)
Double D Dodgeball (PSN)
NHL 09 (DS)
Pop Cutie! Street Fashion Simulation (DS)
Heroes of Might and Magic Kingdoms (PC)
The Abbey (PC)
Margot's Word Brain (DS)
Gods War Online (PC)
Dead Mountaineer's Hotel (PC)
Spyborgs (Wii)
Buzz! Junior: Jungle Party (PS3)
Doodle Hex (DS)
Linger In-Shadow (PS3)
Numen Contest of Heroes (PC)
Ferrari Challenge Trofeo Pirelli (PSP)
Rayman Raving Rabbids 2 (PC)
Limbo of the Lost (PC)
Heroes of the Pacific (PSP)
War in the Pacific: Admiral's Edition (PC)
Hardy Boys: The Hidden Theft (PC)
Freaky Creatures (PC)
Birth of America II: Wars in America 1750-1815 (PC)
WALL-E (Mac)
Telladar Chronicles Decline (PC)
Big Kahuna Party (Wii)
In the Shadow of the Raven 2 (PC)
Action 4: The Expedition (PC)
Stateshift (PC)
Evil Days of Luckless John 2 (PC)
Hoyle Casino Games 2009 (PC)
Hoyle Card Games 2009 (PC)
Fashion Apprentice (PC)
The Settlers IV Gold (PC)
Ragnesis Online (PC)
Darkest of Days (PC)
Hoyle Puzzle & Board Games 2009 (PC)
CellZenith (PC)
9th Company: Roots of Terror (PC)
Code Lyoko: Quest for Infinity (PS2)
Battlefield Heroes (PC)
Dimensity (PC)
7.62 mm (PC)
Jagged Alliance 3 (PC)
Onimusha: The Essentials (PS2)
Unsolved Crimes (DS)
DT Carnage (PSP)
Sniper – Art of Victory (PC)
WorldShift (PC)
Sacred 2: Fallen Angel (PC)
Disciples III: Renaissance (PC)
Galactic Civilizations II: Endless Universe (PC)
Harvest Moon: Tree of Tranquility (Wii)
The Tomorrow War (PC)
Princess Debut (DS)
Age of Empires: Collector's Edition (PC)
Mount & Blade (PC)
My Little Baby (DS)
Luxor 4 (PC)
Baseball Mogul 2009 (PC)
Talisman (360)
Zombie Wranglers (360)
Wonderland Online (PC)
Eternal Eden (PC)
Miércoles (1 de Octubre)
Mega Man 9 (XBLA)
Valhalla Knights 2 (PSP)
Petank Party (PC)