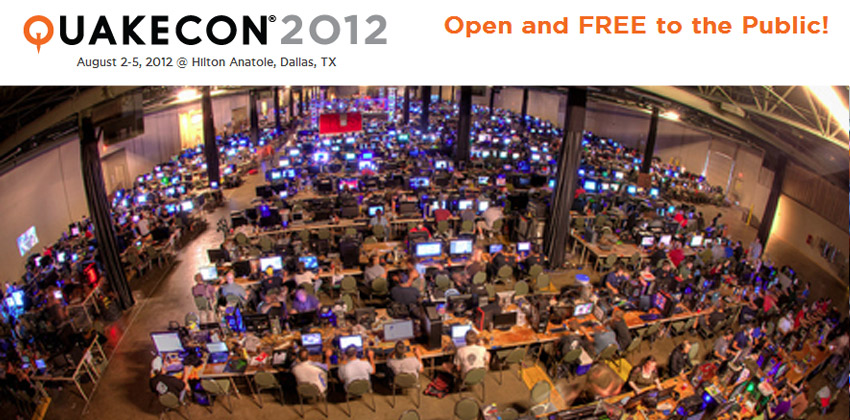 Lagzero tuvo el honor de estar presente en una de las ferias gamers mas importantes de todo el universo, la E3 2012, pero para lo que sigue no logramos conseguir el auspicio necesario para los tickets de avión grátis económico ni hospedaje en algún hotel de mala muerte 5 estrellas para llevarlos a otro super mega evento: QuakeCon 2012.
Pero no importa, estaremos de todas maneras presentes en alma y espíritu en tan magno evento, y los mantendremos informados de todos los culebrones, noticias y baños de sangre que sucedan.
La QuakeCon 2012 es un evento que dura 4 días (del 02 al 05 de agosto) y que entre sus gracias esta la de tener el tarreo más grande de la vía lactea (BYOC LAN party, o en otras palabras "trae tu propio computador a este tremendo tarreo), paneles de discusión con el infaltable semidiós John Carmack, Tom Leonard de Valve (y Half Life 2 ep3, para cuando sería asi por ser?) Geoff Keighley (GTTV), Ted Price de Insommiac Games, charlas del tipo "The Game of Making Games", "Diseñando juegos multijugador", la posibilidad de jugar Dishonored y Doom 3 BFG edition, concursos con jugosos premios y muchas sorpresas más. Lo mejor? La entrada es gratis…SI GRATIS! Ni yo me la creo!
Asi que si andan por Dallas, Texas, digo yo, aprovechen este evento que abre sus puertas desde las 10:00 am hasta las 18:00 hsr. Horario USA of course.
Traigan algún souvenir, tomen muchas fotos, jueguen lo que vendrá…en fin, saquen pica!