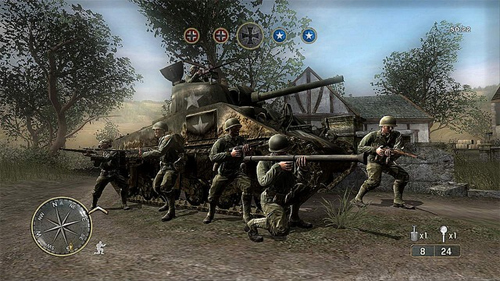 En el marco de la NVISION 08, feria de computación visual organizada por NVIDIA dentro del rubro de los videojuegos se están presentando unos cuantos títulos.
LagZero.NET tuvo acceso a un equipo que estaba corriendo la próxima versión de la franquicia Call of Duty, World at War y compartiremos con ustedes esta experiencia.
Call of Duty: World at War tendrá dos campañas en modo single player, una donde jugaremos con un soldado ruso, tratando de llegar a Berlín y otra donde guiaremos a un americano que deberá derrotar a los japoneses en las islas del Pacífico.
La jugabilidad es exactamente la misma de la versión anterior – Call of Duty 4: Modern Warfare -, y ahora se añaden un par de armas más al repertorio clásico de armas de la Segunda Guerra Mundial para hacer más interesante el asunto. Una de ellas es un lanzallamas, el que podremos utilizar en la campaña del Pacífico para quemar las guaridas donde se esconden los japoneses. Tiene bastante alcance y tenemos que tener cuidado, porque podemos quemarnos a nosotros mismos si no tenemos cuidado al disparar la gelatina de petróleo y avanzar al mismo tiempo.
Respecto a la duración del juego, la gente de Infinity Ward nos aseguró que sería la misma de COD4 y sus predecesores.
En cuanto al modo multiplayer, para hacer más interesante la cosa, tendremos nuevos Perks (modificaciones de las armas) que irán mejorando nuestras habilidades a medida que vayamos adquiriendo más experiencia en el juego, además de un novedoso sistema de Singleplayer Cooperativo (Ver video de Coop Mode) en el que podrás interactuar con otros jugadores para completar las campañas de la historia de World At War.
El motor gráfico es el mismo de Call of Duty 4: Modern Warfare, por lo que los requerimientos de hardware no se dispararán a último momento. La calidad de los gráficos se ve bien lograda y al mismo nivel de la versión anterior; para que se hagan una idea échenle una mirada a las fotos que pude tomar para ustedes:
Call of Duty World At War Estará en PC, 360, PS3 y Nintendo DS y continúa sin fecha de salida oficial.
Nuevamente, 6iE.CR Reportando desde San José California en la NVISION08.